Attach a baby seat to your playpen. The little ones will be able to swing safely. The baby seat for garden playgrounds has a rounded and smooth design to prevent scratches. It also incorporates a safety belt and a barrier to prevent falls.
Product specifications:
Seat for babies from 0 to 3 years old.
Made of durable outdoor plastic.
Ropes made of braided polypropylene.
Compatible with all swings.
Seat belt.
Handle and safety barrier.
Dimensions: 36x36x28cm
Red and yellow color.
For residential or private use only.
Includes ropes and hooks to attach to the structure.
Colors are indicative and may vary.
Valoración de los clientes
08/03/2023
Aurora T.

Spain
Recibido tarde
Recibido demasiado tarde
07/12/2023
Cristina P.

Spain
Envío super rápido :)
Asiento de plástico y parece cómodo. Envío excelente. Gracias
08/02/2022
Noelia P.

Spain
Columpio seguridad para bebés
Compramos este artículo junto con el parque infantil Gaia ya que nuestro pequeño es aún muy bebé para utilizar el columpio que viene incluido en el parque y la verdad, que estamos muy contentos con ambas compras. El columpio es seguro, tiene una barrera delantera que proporciona seguridad para evitar caídas y el asiento tiene forma redondeada para proporcionar más comodidad y amplitud. Puedes adaptar la largura de las cuerdas para que quede más o menos cerca del suelo y además, consta con un cinturón de seguridad. Es un producto muy completo.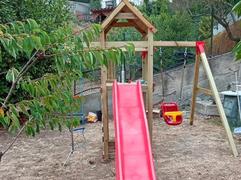 08/02/2022
juegoyjardin.com
Gracias por su valoración Noelia. Nos alegra que el columpio haya sido de su agrado. ¡Ahora toca disfrutarlo!
09/09/2021
Bernardo E.

Spain
07/09/2021
G. Viñi

Spain
Molt ben embolicat. Servei Ràpid
Tot molt bé. Gràcies!