It is probably the favorite and most fun seat of all. The nest seat for garden swing offers the possibility of swinging 2 boys or girls at the same time.
Product specifications:
Seat for two users.
Made with braided PP (polypropylene) ropes.
Reinforced interior metal structure with high density foam protection.
Outdoor resistant PVC fabric.
EN 71 homologation for residential or private use.
Yellow and blue colour.
Dimensions: 100 x 100 x 6cm.
Maximum load: 150 kg.
Product weight: 5kg.
Packaging dimensions: 75x40x7.5cm.
Includes M12 bolts and carabiners.
The colors are approximate and may vary
Why buy a nest swing seat?
You can buy a variety of nest swing for the garden at an affordable price in the Juegoyjardin online store. You can choose between different sizes, models for each home and each playground. Like other swing seats, it is height adjustable. Once the swing structure is assembled, with the nest swing, your garden will be perfect. Boys and girls can swing on it at the same time. These materials are durable and extremely weather resistant.
Valoración de los clientes
09/15/2023
Oscar l.

Spain
Asiento fuerte
El asiento viene desmontado pero se acopla perfectamente al columpio. Muy bonito el conjunto
08/04/2023
luis m.

Spain
Recibido correctamente, buen columpio
El aro viene sin montar, hay que montar y enfundarlo, cuesta un poco pero se hace sin problemas. Parece muy resistente y la tela muy fuerte. Me ha gustado el aro protegido con espuma.
11/08/2023
juegoyjardin.com
Gracias por su valoracion. Si realmente se trata de un columpio muy resistente. Esperamos que disfruten mucho con el columpio!
02/15/2023
Marta M.

Spain
Asiento de buena calidad
Lo hemos montado en el interior de una sala de psicomotricidad. Elemento muy útil para trabajar con niños de forma individual o en pareja. Es suficientemente grande para columpiarse en pareja y también puede usarse para mantener una actividad relajada de juego o lectura. El tejido es sintético y parece muy resistente. La estructura interior de metal tiene una protección de espuma. Las cuerdas son regulables en altura y tiene los ganchos para instalarlo. El producto viene totalmente desmontado en una caja, cuesta un poco encajar los tubos del aro. El asiento en general se ve muy robusto y es bonito. Recomiendo este producto.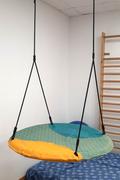 02/15/2023
juegoyjardin.com
Muchas gracias por sus comentarios y por su aportación respecto a la calidad y uso del producto.