Playground designed for private or residential use. It incorporates a double swing, a wooden house with a large terrace, stairs, a climbing wall, a steering wheel and a slide in different colors available, a double house platform and a large sandbox under the tower, also double.
Product specifications:
Structure made with 70x70mm section pine wood poles.
70x140mm section swing beam.
Pine wood structure with class IV autoclave treatment, resistant to attacks by fungus and xylophagous insects.
Natural color.

Wood with FSC certificate, which guarantees the origin of sustainable sources.
Metal elements, metal joints and steps made of steel, powder-coated.
Ropes made of braided polypropylene resistant to the outside.
Seats made of HDPE Polyethylene resistant to the outdoor and against discoloration by UV rays.
Slide made of HDPE Polyethylene resistant to outdoors and against discoloration by UV rays.
Residential use.
EN 71 homologation.
Not suitable for children under 3 years old.
Maximum user weight: 50kg.
Number of simultaneous users: 8
Slide exit platform height: 1.25m.
Platform dimensions: 140 x 80cm
Slide length: 2.2m.
Product dimensions: 4.31 x 3.02 x 2.70m (height)
Weight: 180kg
Contents:

Slide 2.2m.
Metal ground anchors.
ergonomic handles
Screw protectors.
Steering wheel.
Wood pack.
wooden roof
Tools kit.
Assembly instructions manual "step by step".
Ladder with metal steps.
Metal swing connectors.
2 green seats with ropes and hooks.
8 climbing holds.
Additional Information:

Assembly time: 6 hours 2 people.
Includes assembly instructions.
Wood is a natural material. It can have irregularities such as color variations, sap, knots... It is a material that when exposed to external conditions of temperature and humidity variations, cracks are produced. This does not affect the robustness of the product.
Images are for reference only, actual equipment appearance and color may vary.
Valoración de los clientes
05/10/2023
Daniel S.

Spain
Muy contento con el parque
Todo ha ido genial, la atención de Pau ha sido excelente. Siempre ha contestado rápidamente a mis preguntas. Las instrucciones para montar el parque son claras y viene con todos los accesorios necesarios para el montaje. El parque ha quedado genial, está hecho con buenos materiales y a los niños les encanta, que es lo mas importante.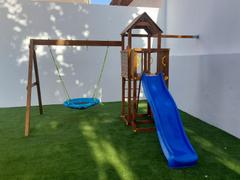 05/11/2023
juegoyjardin.com
Muchas gracias Daniel por tus comentarios. Le felicito por el resultado, ha quedado muy elegante y bonito con el barnizado. Espero que disfrutéis mucho del parque con los niños! Saludos y hasta pronto!
02/14/2023
Joaquín O.

Spain
Conforme a la descripción
El parque está bien tal y como se describe. Recibido en un palet de madera bien protegido. Lo recibimos en unos 10 o 12 días aproximadamente. El montaje se tarda un poco pero es fácil. Parque recomendado y más grande de lo que imaginaba.
10/21/2022
Monica L.

Spain
10/16/2022
CRISTINA G.

Spain
Bien en general
El parque está bien, pero seria mejor si no se tuviese que hacer agujeros. Algunas tablas vienen con nudos. El transporte fue poco flexible, ya que no concretaron la hora exacta de la descarga y solo daban un margen de horas que a mi parecer son demasiado amplias para organizarse.
10/17/2022
juegoyjardin.com
Gracias por sus comentarios. Este tipo de transporte que se realiza con camión es muy complicado calcular una hora exacta, puesto que habitualmente siguen una ruta y tienen que dar un margen de horas para la llegada en el domicilio. Referente a los nudos, es una propiedad natural de la madera y especialmente la madera de pino nórdico presenta algunos nudos, esto no afecta a la solidez del parque.
10/15/2022
Caterina C.

Spain
Parque muy bonito y espacioso
Los niños encantados. Nos ha llevado un fin de semana a montarlo pero el resultado ha sido muy bueno. No es difícil pero es entretenido, almenos para nosotros.