Outdoor picnic table, with approval for public use that guarantees great resistance. Specially designed for public parks, schools, residences, hotels, campsites, neighborhood communities and private gardens.
Product specifications:
Made of 45mm thick pine wood, with level IV weather resistant autoclave treatment.
Reinforced structure, with double support beam for the benches.
EN1176 approval
Suitable for 6 to 8 people.
Dimensions: 180 x 140 x 75.5cm (length x width x height)
Seat height: 46cm
Valoración de los clientes
10/18/2023
CEIP L.

Spain
Mesas para patio de escuela
Hemos comprado las mesas conjuntamente con otros equipos. Las mesas son fuertes. Instaladas en un patio de colegio. Por ahora todo bien.
11/08/2023
juegoyjardin.com
Muchas gracias por enviarnos sus valoraciones. Celebramos su satisfacción con la compra. Reciba un cordial saludo.
10/16/2023
Maria T.

Portugal
Boa compra e bom serviço recebido
Boa compra e bom serviço recebido
04/20/2023
Club R.

Spain
Llegaron los bancos correctamente
Comunicación con el vendedor y servicio de entrega buenos.
06/30/2022
PILAR S.

Spain
Taula per exterior de qualitat
La taula és forta, ben acabada i compleix les expectatives. Bé amb un embalatge consistent. El llibret d'instruccions que duu és entenedor i el seu muntatge és senzill.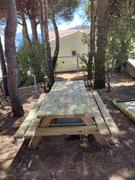 07/21/2022
juegoyjardin.com
Moltes gràcies per la seva valoració. Celebrem la seva satisfacció. Salutacions.