Climbing frame for garden with a tower and slide, knot-type climbing ropes and a ladder. Structure with double swing.
Protective pressured primer that guarantees resistance to outdoor use.
Product specifications:
Wood with FSC certification, which guarantees the origin of the wood from responsible and environmentally friendly sources.
Pine wood structure with class IV autoclave treatment, resistant to attacks by fungus and xylophagous insects.
Metal elements, metal joints and steps made of steel, powder-coated.
Ropes made of braided polypropylene resistant to the outside.
Seats made of HDPE Polyethylene resistant to the outdoors and against discoloration by UV rays.
Slide made of HDPE polyethylene resistant to the outdoors and against discoloration by UV rays.
Made of pine wood.
Natural color.
Residential use.
EN 71 homologation.
Not recommended for children under 3 years.
Maximum user weight: 50kg.
Number of simultaneous users: 9
Slide exit platform height: 1.25m
Platform dimensions: 80x80cm.
Slide length: 2.2m
Product dimensions: 3.80 x 3.81 x 2.52m (height).
Weight: 124 kg.
Contents:

Slide.
Metal ground anchors.
Screw protectors.
Wood pack.
Wooden roof.
Knotted rope.
Rope ladder.
Steering wheel
Tools kit
Assembly instructions manual "step by step"
Ladder with metal steps.
Metal swing connectors.
2 seats with its ropes and hooks.
Additional Information:

Assembly time: 6 hours 1 person.
Includes assembly instructions.
Wood is a natural material. It can have irregularities such as color variations, sap, knots... It is a material that when exposed to external conditions with variations in temperature and humidity, cracks can occur. This does not affect the robustness of the product.
Images are for reference only, actual equipment appearance and color may vary.
Valoración de los clientes
01/14/2023
Jordi M.

Spain
Fantástico
Encantado con el producto y por la atención y preocupación del vendedor. Recomendado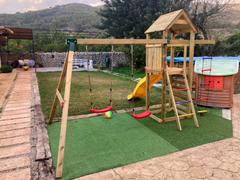 01/16/2023
juegoyjardin.com
Muchas gracias por tu valoración Jordi. ¡Ha quedado precioso! Ahora toca disfrutarlo!
10/13/2022
Francisca C.

Spain
Parc
L' atenció al client és molt bona, es preocupen moltíssim durant tot el procés des de la compra. El parc està molt bé, l'únic problema que hem tengut ha estat que unes quantes barres han vengut tortes i per això ha estat bastant més difícil montar el parc, ja que els forats no coincidien.
10/13/2022
juegoyjardin.com
Moltes gràcies per la seva valoració. Lamentem el problema que han tingut amb aquestes barres. Les fustes són naturals i tot i que estan deshidratades és possible que amb els canvis de temperatura, humitat o la calor puguin variar la seva forma lleugerament quan no estan subjectades. Si hi ha alguna cosa que poguem fer ajudar facin-nos-ho saber, si us plau. Celebrem que hagin pogut muntar el joc i esperem que disfrutin molt del seu nou parc. Salutacions cordials.